November 5, 2021
Developed in collaboration with Ontario Health, the Ontario Hospital Association, Provincial Geriatrics Leadership Ontario (PGLO), the Rehabilitative Care Alliance and other partners, the Alternate Level of Care (ALC) Leading Practices Guide: Preventing Hospitalization and Extended Stays for Older Adults (the Guide) aims to improve the delivery of acute care to older adults in hospitals and other settings.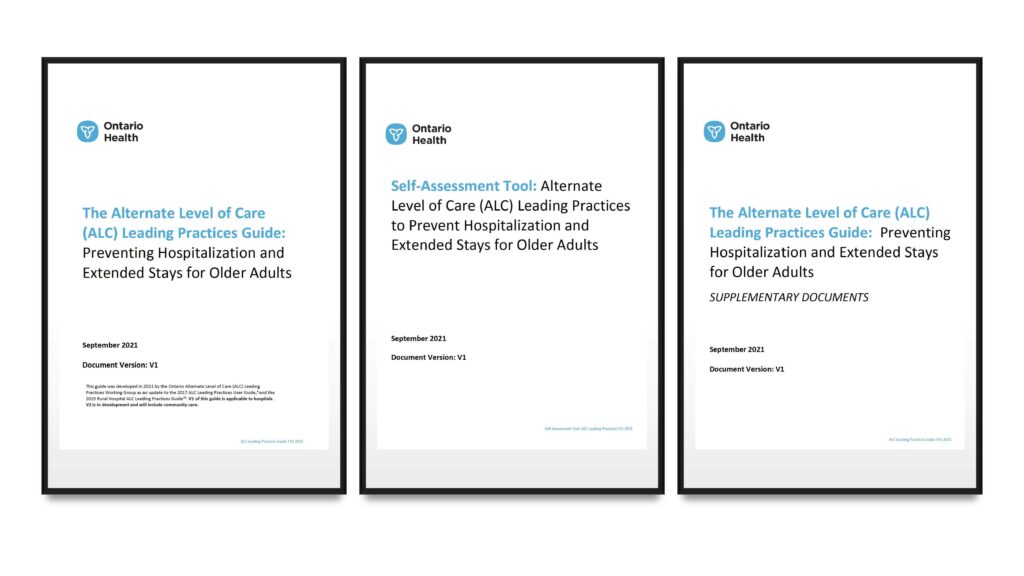 The new Guide revises earlier work dating back to 2017 and integrates current thinking in senior friendly and integrated care for older adults. PGLO and its network members  provided in-depth subject matter expertise to support the creation of this comprehensive Guide, bringing clinical knowledge to update practice expectations.
"Ontario's healthcare system has an opportunity to grow its focus in the area of older adult care, and the development of these ALC Leading Practices responds to the unique needs of older patients and highlights the expertise required for their care", said Dana Corsi, Chair of the Provincial ALC Leading Practices Working Group, the committee that developed the Guide,  
The focus on older adults is intentional. Older adults over 65 comprise 80% of patients who currently face lengthy hospital stays for a variety of reasons, resulting in their designation as requiring an alternate level of care (ALC).  ALC is defined by the Canadian Institute for Health Information as a description used in hospitals to refer to patients who occupy a bed but do not require the intensity of services provided in that care setting 
The Guide includes a self-assessment tool for healthcare organizations or Ontario Health Teams to identify strengths and opportunities to support improved patient, provider and system outcomes across the continuum of care. The Guide supports organizations in preventing hospitalization and extended stays for older adults.  
"PGLO was pleased to partner with others, bringing clinical geriatric expertise to the Guide's development" said Kelly Kay, Executive Director of PGLO and a member of the Provincial ALC Leading Practices Working Group. "This work is consistent with our aim to advance integrated care and incorporate expert knowledge in older persons' care in all settings where they receive health and social services, including on the ground in our province's hospitals", Kay noted. 
"The motivation to revise the previous work in this area was to look beyond administrative processes and focus on the older adult and their care partner as central to the care experience", said Corsi. "This includes addressing the requirements of an older adult's care, identified through understanding their story, their experiences and who they are outside of their illness", Corsi added.  
For more information, or to obtain a copy of the Alternate Level of Care (ALC) Leading Practices Guide:  Preventing Hospitalization and Extended Stays for Older Adults and related tools, contact info@rgpo.ca