The Provincial Common Orientation is a tiered approach to learning that enables health and social care providers interested in the care of older adults living with frailty to engage in relevant and progressive professional development. The Provincial Common Orientation is intended to support a holistic approach to geriatric care through learning activities that integrate the complex physical, cognitive, social and mental health concerns frequently experienced among older adults.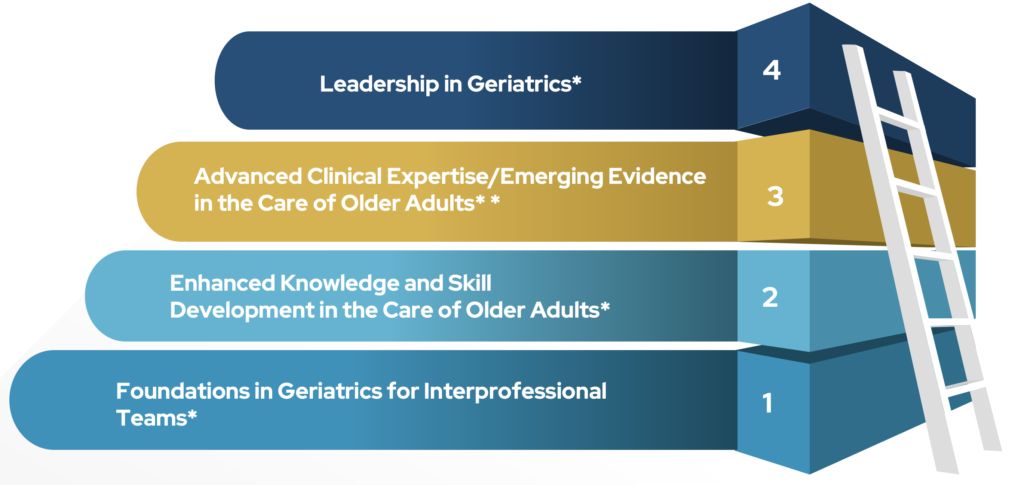 Health and social care professionals new to geriatrics build initial knowledge through foundational concepts appropriate for interprofessional teams (Tier 1: Foundations in Geriatrics for Interprofessional Teams). Learners then expand this foundational knowledge and develop additional skill by engaging in enhanced learning activities (Tier 2: Enhanced Knowledge and Skill Development in the Care of Older Adults).
The format of 
Tier 1 and 2 
presumes learners will be actively engaged in the development of their own competencies.
This means that learners will 
participate
 in three
main learning activities
:
self-study
, a facilitated learning series (see  Program Outline) and formal and informal mentorship
.
For regulated health professionals working in specialized and focused geriatric services, additional continuing education is available through Ontario's Regional Specialized Geriatric Services Programs who provide advanced education that integrates new evidence and advanced clinical concepts (Tier 3). A final Tier (Tier 4), focused on the development of leadership and systems thinking in geriatric care enables the better integration of geriatric clinical expertise with health policy to support the design of integrated care systems for older adults in Ontario. Tier 4 content will be available through Provincial Geriatrics Leadership Ontario.